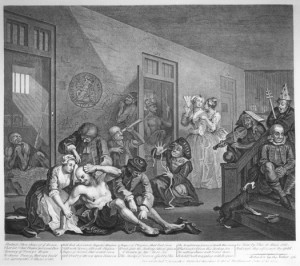 Criminally Insane: From Bedlam to Broadmoor, Bellevue, and Beyond – An Illustrated Lecture with Judy Jackson
Date: Monday, December 21st
Time: 8pm
Admission: $8
Location: Morbid Anatomy Museum, 424 Third Avenue, 11215 Brooklyn NY
Tickets Here: http://www.brownpapertickets.com/event/2438621
Although he feeble minded and inform were already institutionalized, In the 19th Century, a new classification was created for the Criminally Insane. Those found guilty of unspeakable acts, but deemed unable to recognize the difference between right and wrong, or to conform their behavior, were consigned to new facilities built exclusively for their care and confinement. The first and most famous of these being Broadmoor in England, and Bellevue Hospital, in the United States.
With the introduction of medico-legal expertise during the Victorian era, rose the Alienists and Mad Doctors. In the courts, Moral Insanity — what we might now call Psychopathy — came into parlance to describe those whose faculties were not deemed deficient, but depraved. Their abhorrent and atrocious crimes were such that no decent person could contemplate. Apart from such degenerates were sufferers of delusions, and those who in an emotionally over excited state were driven to desperation under the grip of irresistible impulse.
Drawing on extensive records, accounts by patients and physicians, treatises on mental illness, and current diagnostic categories, we'll explore the different definitions of Legal Responsibility then and now, meet some famous residents, including artists and writers, examine treatment approaches, and what it was like to celebrate Christmas in the Asylum.
Judy Jackson interned at Bellevue while obtaining her BA/MA in Forensic psychology from John Jay College of Criminal Justice. She is the founder and CEO of FullForce Forensics LLC, a platform for consulting on creative projects with psycho-legal narratives.
Image: "An insane man" (Tom Rakewell) sits on the floor manically grasping at his head, his lover (Sarah Young) cries at the spectacle whilst two attendants attach chains to his legs; they are surrounded by other lunatics at Bethlem hospital, London. Engraving by W. Hogarth, 1763, after earlier engraving by himself, 1735, William Hogarth
Image from The Welcome Collection